I'm excited to announce the launch of a new, cloud-based version of Testdriver, our popular benchmark automation platform for IT professionals.
Testdriver Cloud Edition—Fast and easy benchmark automation
PC performance testing in a large enterprise environment doesn't have to be complex and time-consuming. Testdriver Cloud Edition simplifies endpoint performance benchmarking. With cloud-based benchmark automation, you can easily test and monitor PC systems in multiple locations remotely.
With features designed specifically for IT professionals who manage large computing environments, Testdriver Cloud Edition offers easy configuration, quick setup, and convenient, cloud-based control.
Save time and effort by replacing manual endpoint performance testing with cloud-based, centrally managed, automated remote testing.
Schedule recurring runs on an unlimited number of endpoints without affecting employee productivity.
Gain accurate performance insight into the endpoints in your systems environment with proactive monitoring and easy reporting.
A new cloud-based application from UL
Since launching the on-premises version of Testdriver in 2017, we've been investing in our tools and technology to find new solutions for our enterprise customers' problems.
Testdriver Cloud Edition was born out of customer requests to simultaneously test, monitor and report on systems in multiple locations remotely in a fast, easy and consistent way.
With the valuable input of our customers over the past year, Testdriver Cloud Edition has grown into a powerful solution with great features that are helping our customers automate PC performance testing across a range of business areas.
Testdriver Cloud Edition is an ideal tool for IT professionals. It replaces time-consuming manual endpoint-performance testing with fast and easy remote testing automation and monitoring. It offers cloud-based convenience with no database or server setup required. It supports recurring scheduled runs with user-defined baselines and offers easy trend monitoring of organizational and individual PC performance.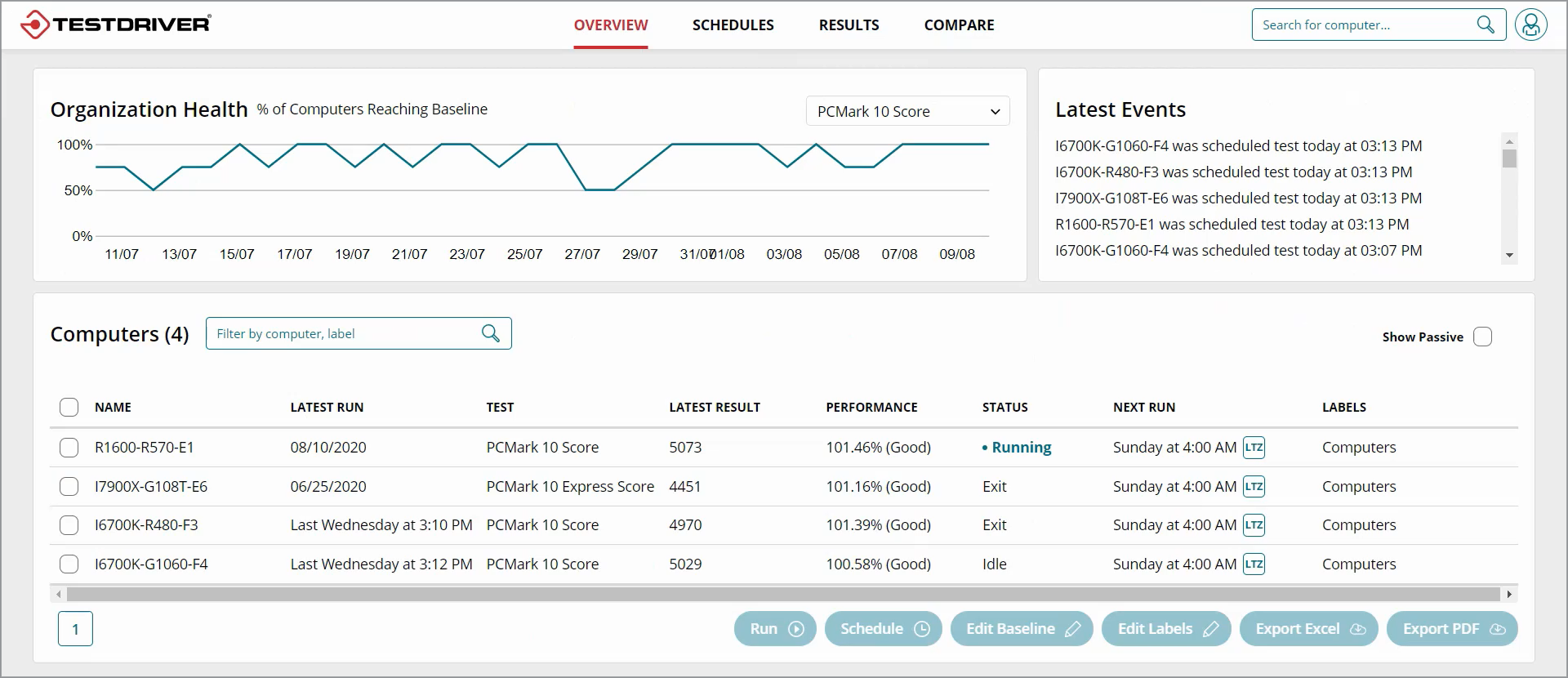 Set up and schedule recurring benchmark runs then monitor performance trends against your baselines.
How is Testdriver Cloud Edition different from the on-premises edition?
Testdriver Cloud Edition builds upon the foundation of the on-premises edition with a focus on convenience and ease of use.
Testdriver Cloud Edition offers cloud-based convenience with no database or server setup required. You can monitor benchmark results against user-defined baselines, a function especially helpful for internal PC certifications, new hardware validation and IT standardization.
The new Organizational Health function offers visibility into your entire systems environment at a glance for easy performance monitoring. You can compare results directly in Testdriver Cloud Edition or export them in Excel or PDF for further endpoint performance analysis.
Testdriver Cloud Edition currently supports PCMark 10 performance benchmarks with more tests coming soon. PCMark 10 measures complete system performance with tests based on real-world applications and activities that cover the wide variety of tasks performed in the modern workplace.
You'll find more information about Testdriver Cloud Edition on our website. We've also created a press kit with screenshots, logos, and other useful assets so you can share this news with your readers.