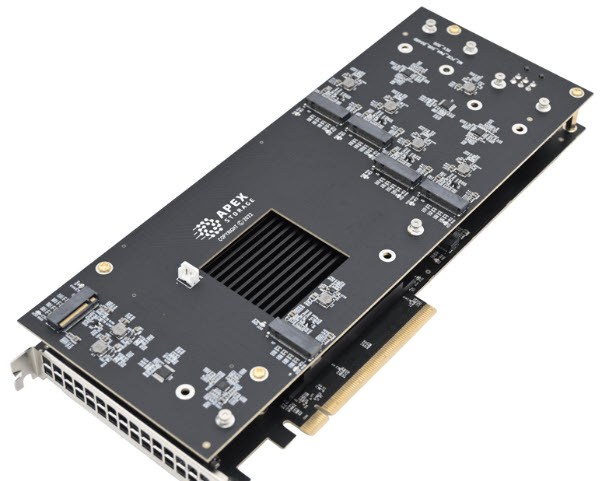 Specifications for the Apex X21 are as follows.
Host 21 x M.2 Gen 4 NVME SSDs
168TB+Storage Per Card**
31GBps Read/Write Speeds
Industry Leading IOPS
100 PCIe 4.0 Lanes
Full UEFI/Secure Boot Support
** When 16TB M.2 SSDs are released, capacity can jump to 336TB
One must note that the X21 can be configured in many different ways and is primarily designed for servers and high-end workstations. The X21 is not equipped with a RAID controller chip, which allows end users to set the X21 up depending on system requirements. Also, no fans are equipped on the card, so users would require cooling fan support to operate. Generally, this would be fine in servers with many cooling fans. In a workstation, additional fans might be needed.
At Sabrent, we run on the cutting edge of technology. Working with Apex, we received one of these new cards and currently running it through tests. We call this the Sabrent Apex X21 Destroyer.
Readers might have seen reviews of our Sabrent RocketQ Battleship, Sabrent Rocket 4 Plus Destroyer, and Sabrent Rocket 4 Plus Destroyer 2, which used the new B47 Flash before. These AICs used the HighPoint SSD7540 PCIe Gen4 x16 RAID card, which houses 8x M.2 slots.
Apex has taken this solution to a whole new level allowing up to 21x M.2 NVMe Gen 4 SSDs.
In a single-card configuration, the X21 can deliver sequential read and write speeds up to 30.5 GBps and 28.5 GBps, respectively. The random performance on the AIC consists of 7.5 million IOPS reads, and 6.2 million IOPS writes.
We equipped our X21 with an incredible 21 of our Rocket 4 Plus 8TB SSDs to reach the maximum capacity of 168TB of Gen 4 storage on a single card.
The AIC utilizes a single-slot PCIe x16 slot install which gives plenty of clearance to other cards or even another X21, which can be combined with the first card. It does require 2x 6-PIN power connectors to power the X21.
Here we will show some additional pictures of how our X21 is setup.
The X21 uses 4 screws to hold the AIC together which connect through two back-pane connections. It's rather simple to disassemble and install all the needed SSDs.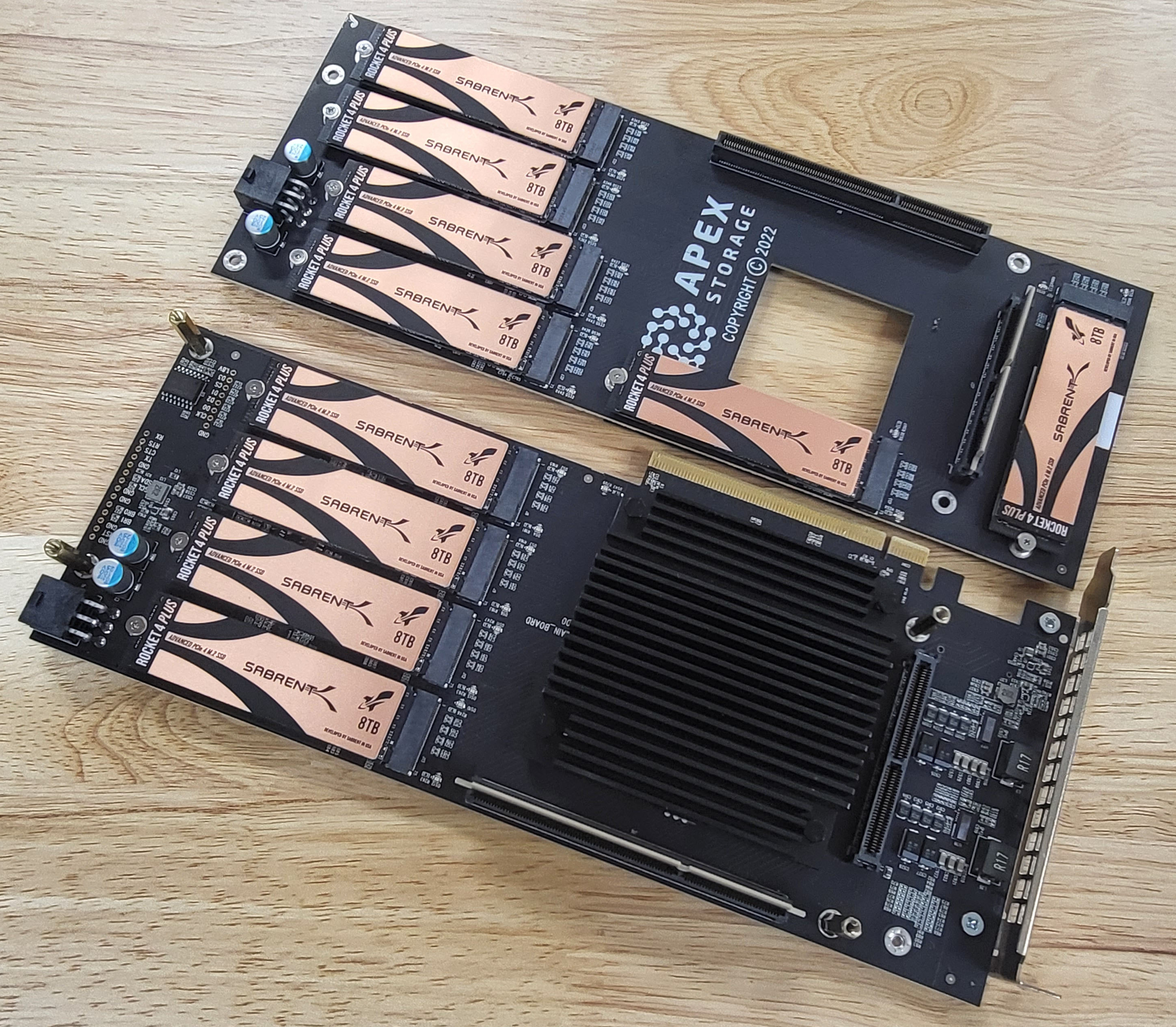 At this time, we are doing in-house testing. Then it will be sent out for an independent review.